A Beautiful Tour
It's not every day a reigning beauty queen stops by for a tour. Add to that the fact that she is the mother of an autistic child and we have the makings for a very special morning.
That was the case when the current Mrs. Arizona, Alexis Kenney, spent over two hours touring our programs at 924 earlier this week. Our beautiful individuals in buildings 1, 2 and 3 met this lovely lady and captured her heart with their incredible personalities.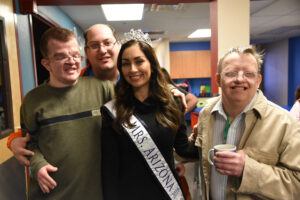 It felt like walking through the buildings with a rock star! Time stopped everywhere we went. Crowds gathered. Everyone smiled. Everywhere we went, our members came to her and asked for their picture to be taken with her. Many had their own iPhones and asked others to take photos for a personal keepsake!
It was immediately evident she was enjoying the tour as much as the members she was meeting. Alexis's challenges inside her own family clearly have made her more sensitive to our mission and she expressed a desire to see more of our programs in the future.
As our tour moved to Building 3, we ran into Pete Nassos, owner of me4kidz. Pete and his wife, Richalle, are Copa Health clients. (Me4kidz was awarded the 2017 Copa Community Partner Award). Our ERS division packages and ships their Medi-aid first aid kits worldwide.
When Alexis met Pete, everything at Copa Health came full circle. She had seen the members assembling the kits, shrink wrapping them and getting them loaded on pallets for shipment. Now she met the man responsible for the project.
This story shows how, when we least expect it, a quiet Tuesday morning can become a beautiful memory for all involved. This is the effect our tours have on our guests. They energize everyone and leave first time visitors in awe of what Copa Health employees and members accomplish each and every day.
Thank you to all and keep up the beautiful work!