Born on the Bayou – Recovered in Arizona!
Mary Brooks approaches her job as a Recovery Navigator at Partners in Recovery with an enthusiasm that is fueled from her own life experiences. She leads by example and uses her own history to help others grow and find their way to happy and productive lives.
Mary was born in Louisiana and grew up enjoying all that is great about that region of the country. The countless food traditions alone fill innumerable cookbooks describing Cajun, Creole and other signature dishes of Louisiana.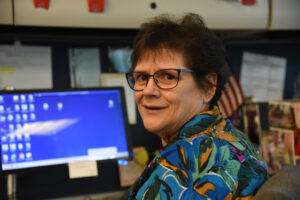 She married her childhood sweetheart Gary, and they had two children. In spite of these happy and rewarding foundations in her life, there was always a dark cloud hanging over her and that cloud was a bipolar diagnosis.
Over the years she was hospitalized multiple times – some by admitting herself – others by psychiatric order. A graduate of LSU (Geaux Tigers!), Mary's career as a physical therapist was often interrupted by her seemingly never ending bouts of highs and lows.
She would withdraw and then rage – her condition never really improving. Her jobs were often negatively affected by these swings. The one constant through all the years was the love and patience of her husband of 38 years.
When he accepted a job offer to move to Arizona, Mary was ready for a fresh start. Unfortunately the change of geography did not change her mental condition. She continued experiencing the ups and downs of being bipolar while her family patiently stood by her side.
After one of her hospitalizations in Phoenix, she was referred to the Arrowhead Clinic where she was assigned to the MACT Team (Medical Assertive Community Treatment), the highest level of care for outpatient services. This was the turning point Mary and her family had been praying for! With her psychiatric, medical and case workers all aligned in one unit, Mary began to improve.
She was encouraged to join a Peer Support Group and did so somewhat reluctantly. "I was scared when I came in and didn't know if I was going to pass." But pass she did and in fact she received a 100 out of 100 score!
Mary has a pleasant and low key personality, which serves her well in her role as a Recovery Navigator. She believes this enables her to help create an immediate connection with her clients. She often shares her story which creates a bond that otherwise might not exist.
Hoa Mai, Chief Transformation Officer at PIR, says of Mary, "She is the shining example of recovery. She is an inspiration to me and to many people whom she serves that recovery is a fact and is possible for everyone."
Mary sees life differently now. She has gone from a career as a physical therapist to a career in "mental therapy." She believes that on her road to recovery, this is her ministry and says, "The road to recovery is hard when you walk alone. But if you are willing to accept another's help, it makes it easier to travel." Mary Brooks has walked the walk and is prepared now to help others travel that road.