Freestone
When the word "Freestone" is mentioned at Copa Health, it can mean multiple things. There is Tom Freestone, who has given decades of active service to this organization as a Board Member and as an influential member of the community.
Then there is our incredible Freestone Campus in East Mesa that represents all that is great about this organization. Built seven years ago on an underused city site, Copa Health has transformed this parcel into a beautiful day care center and apartment complex for our clients.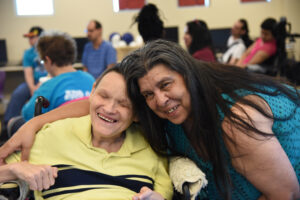 Barb and Rich Blasco speak glowingly about how this center gives them a respite from the duties of parenting a developmentally disabled daughter. While their daughter, Katherine, is at Freestone during the day, they can take care of the other day to day business of life.
Another parent, Cheryl Noll, has one daughter at our Freestone day services program and another daughter who lives in one of our Freestone Campus apartments and is employed by Copa Health. Much like the Blasco's, Cheryl is able to get respite as a caregiver which allows her to work full-time for the City of Mesa.
The Day Center is run by the indomitable Alice Williams and her fantastic staff. Whether it is a petting zoo at the Fall Halloween Party or a special Valentine's Day party, no detail is forgotten and there is love and joy spread beautifully through the building.
The Freestone Center has become a wonderful asset to our community. We are proud to operate such a first rate and needed facility that serves our members and their families in so many ways.