Our Friend Jeffrey
Our friend Jeffrey shares many of the same dreams all of us have had at one time in our lives. Like all of us, he gets up every day to an ever-changing world. His mind is sharp, but unfortunately his body is not. Jeffrey is confined to a wheelchair and will be for the remainder of his life.
Jeffrey was born with Muscular Dystrophy, a horrible disease that robs a person of their body. He has attended our day program for a number of years. His mother is also a longtime Copa Health employee, who gives constant assistance to Jeffrey when the day program finishes their work.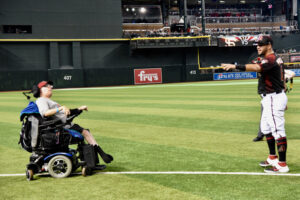 When asked how he does, considering that he has full intellectual capabilities, yet most everyone in the Day Program does not. His response was typical Jeffrey – he said, "I was put here for a reason. I can speak the language they cannot."
He is a movie fan and a sports buff that enjoys the pace of baseball. While he cheers for the Diamondbacks, Jeffrey confesses to also being a Cubs fan! One of his biggest goals is to graduate from college.
There are a times in our lives when we come in contact with someone who has a special and unique spirit. Each of us has a certain number of talents. Some of us use most of them. Our friend Jeffrey takes each and every talent he was born with and maximizes it.
When we think of his challenges and how he faces them, we are in awe of him and truly inspired. Jeffrey – thanks for being our friend!