Road Trip
The mere thought of transporting 37 people across country for a week to the "Happiest Place on Earth" would be enough to scare off most people. If not that destination, how about a week on a cruise ship in the Caribbean with multiple shore excursions?
To even think about attempting trips like these you would need to have some seriously dedicated staff along with a terrific travel plan! That is exactly what Copa Health, powered by Marc Community Resources and Partners in Recovery, is proud to offer our members. Our extraordinary team has made these and other incredible adventures in paradise come true for our members since 2005.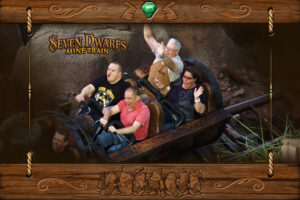 Thanks to Copa Health's Kathy Pounders and Cherie Vance's love of their work and the members they serve, they have guided our members on trips they likely would have only dreamed about. The original concept for travel evolved from requests from family members to help them travel.
Since the first trip in 2005, Kathy and Cherie have planned and supervised trips to Hawaii, Alaska, New England, Disneyworld, San Diego, Anaheim, the Caribbean and The Bahamas. Their experience has taught them to navigate the TSA lines in the quickest ways, as well as understanding how many states have become more ADA compliant over the years.
Cherie says "Many of the individuals we take don't have family that can take them on vacation, so it is very special for them. We have taken hula lessons, seen dolphins, whales and even bears on our trips." Cherie continues, "By giving them new experiences, we see the joy it adds to their lives. It is a lot of work, but seeing their joy gives us great happiness."
Kathy, who has been at Copa Health for 24 years, has devised a good blueprint for travel. "We collect luggage three days in advance of departure and then we go through carry on bags to make sure they are TSA approved." She added, "Whatever issues we have getting to where we are going evaporates when we see the looks on their faces as their destination becomes an actual life experience."
One of her fondest memories is from their first Hawaiian cruise. The group decided to go listen to music and entered a lounge playing oldies. While the chaperones watched, the members enjoyed dancing and visiting with the guests.
Kathy remembers, "The highlight of the evening was when the band stopped and announced they had a special musical number. It was one our members singing Elvis's 'Can't Help Falling in Love.' It also happened to be that member's birthday! My favorite memory ever!"
Having just returned in December from Disneyworld in Florida, Kathy has already received inquiries for the next excursion. Their dream is a trip to Italy. With Kathy and Cherie's perseverance, that dream may very well turn into a beautiful reality.