Dynamic Ann
She stands a little over, well actually, maybe a little under five feet tall. Her spirit soars to the heavens and her personality doesn't trail much behind. At 83 years old, Ann can still remember and give precise dates and descriptions of a wide variety of important events in her life, all the while exuding a positive outlook about her time on this earth.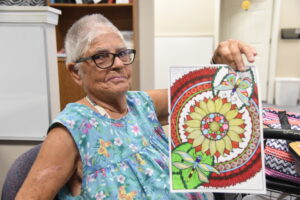 Ann had a tough childhood, being placed in the Arizona Children's Home when she was a small child. She had epilepsy and a mild case of polio. Her recurring seizures and medications made it impossible for her family to take proper care of her, so she stayed institutionalized until she was able to be on her own.
She has many memories of the level of care she received, not all being great. Those were different times when caregivers had hugely different approaches to taking care of their charges. Through it all, Ann persevered and grew mentally and intellectually stronger.
As she grew older, Ann became more and more independent. She worked regular jobs and found ways to become part of her community. Blessed with a beautiful voice and strong memory recall, Ann became a regular member of her church choir.
There was another part of Ann that blossomed as her independence grew more secure. Art was something that seemed to come naturally to her and she began doing watercolors and taking on creative sewing projects including Swedish weaving in summer camp in 1958.
She is an optimist who values her freedom and her innate joy is apparent to all who come in contact with her. She says, "To be in the world and learn things like I did – it's going along beautifully!"
Some of the things she learned on her own would be simple tasks to most of us like understanding a bus schedule and keeping a budget. She came from a time when those things weren't naturally taught, yet she persevered and today counts this as another sign of her independence.
Shannon Buesser, who works with Ann as part of Copa Health's In Home Services Division sees Ann about 5 hours a week and assists her with some of her daily activities. Shannon is quick to point out that Ann keeps an extremely clean home and loves her favorite TV programs such as HGTV, Fix & Flip It and The Property Brothers.
Ann will often sing to Shannon as she helps her with her bills, laundry and shopping. Her effervescent personality is constantly on display and Ann will light up any room she is in.
While she is often a creature of habit, going out to breakfast each day to the same place and having the same order, she is always open to new ideas. But most of all, Ann is content with her life and projects a happiness born from knowing she has brought herself a long way in a long life.