The Dean of the Warehouse!
Dean Gates, Production Tech & Warehouse Manager in Building 3 at 924, is truly a unique individual – even by Copa Health's amazing standards! As a child, he was put in the care of the family of Copa Health's Phyllis Donoho, Program Manager of Copa Health's Employment Related Services. Phyllis and her husband raised Dean as foster parents, providing a secure and loving home life.
A rabid sports fan and movie buff, Dean's desire was to be productive and find a niche where he could work and make a difference. With the help and guidance of Phyllis and her family, Dean found that niche.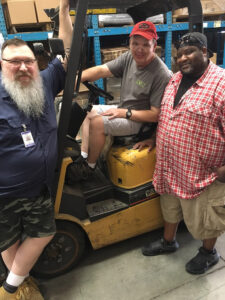 First as a client, then as an employee, Dean began his working tenure at Copa Health by pulling pallets by hand in the warehouse. One day, a longtime Copa employee named Moses asked Dean if he would like to learn how to drive the forklift.
There was no looking back from that moment! Dean has become extremely proficient operating the forklift both loading and unloading the big trucks that carry Copa Health's thousands of items of production to stores all over the world.
Copa Health Production Manager Sam Henry, says glowingly of Dean, "He will do any task, is incredibly reliable, independent and loyal to a fault! He has a great rapport with all the drivers who service our accounts."
Phyllis says proudly, "Dean never says no to anyone and he works so diligently that we often have to force him to go on breaks. He loves his job and everyone he works with so much!"
Today we are celebrating the 20th work anniversary of one of our truly incredible employees – Dean Gates! We are so fortunate Dean is part of our great team!