Thirsting for Knowledge…and Refreshments
There was a time when the idea of beverages or snacks inside a public library would not have been such a good idea. It wasn't that people wouldn't be careful to not spill their coffee or juice on an Edwardian classic, but the idea of liquids around all that paper was not embraced.
Times have changed and with that change has come another wonderful opportunity for our Employment Related Services team. We now proudly operate coffee kiosk concessions at two Mesa Public Libraries – the main branch in downtown Mesa and the Red Mountain Branch in East Mesa.
The team that works at these enclaves is representative of Copa Health – powered by Marc Community Resources and Partners in Recovery. Many of them live in one of our group homes where they commute to work each day to help bring joy to the residents of Mesa.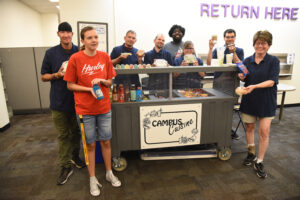 Not only can you grab a beverage at the Red Mountain Branch, you can also enjoy a sandwich or a salad made by another of our very successful enclave programs at the Leisure World Rendezvous Café. Chef Grant and his team at the café supply fresh items that patrons of the library can consume while thirsting for more knowledge, be it recreational or for academic purposes.
Two longtime members, Terry and Megan, are active participants in this program. They are both making strides towards more independence and are excited to be interacting so directly with people in a community setting.
Terry is a great example of how this program has helped an individual gain confidence and a job skill and become more productive in society. He has been a member at Marc Community Resources for 16 years and lives in one of our group homes.
He began working at Basha's bagging groceries and returning carts. He was then asked to be part of the Red Mountain Library team. Terry enjoys the one on one interaction with customers of the library and at home he is always looking to do something helpful for others. There is hardly anything at our main ERS site that he hasn't tried or couldn't do!
James Fella, Program Manager for ERS says of Terry, "He has excelled in everything asked of him and has become more confident in his abilities to work with others. The direct interaction and utilization/learning of transaction related skills helps him gain new experiences at the coffee cart – all of which add to a skill set that he takes with him anywhere else he may end up!"
Megan has a wonderful personality that is always on display at the coffee cart when she greets customers and efficiently gets them their orders. An avid reader, her goal is to become more independent and get jobs that have increasing responsibilities.
Megan enjoys spending time with her boyfriend and is extremely thankful for the continuing support of her family.
James says of Megan, "Having staff there as oversight enables Megan to work as independently as possible. Her goal is that she can one day do this on her own with minimal supervision."
The Mesa Library program gives the opportunity for clients on our Developmental Disability side to have great opportunities to have meaningful one on one relationships with the general public. It provides our members with the most direct and positive impact possible.
Lastly, we are very proud of our ongoing strong relationship with the City of Mesa that helps make this program a success!