What A Difference A Place Makes
The classic baseball movie Field of Dreams is about a farmer hearing voices telling him to do away with his corn crops and build a baseball field so old-time greats can come and play on it. The one essential line in the script that weaves everything together is "If you build it, they will come."
While there were no cornfields in Peoria that needed to be cleared for a better and higher use, Christy Dye's vision and passion about creating a facility that would provide the best care and coverage for clients of Copa Health in a cutting edge way was truly ahead of its time.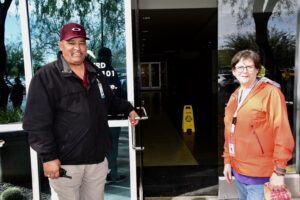 The "old" place on 99th Avenue was dark and dreary. The carpet was so thin, there was no way to properly clean it. In many ways the facility itself reflected the mood of many of the members who were served there.
Today, the West Valley Campus and Integrated Health Home is a beacon of hope and promise for the members they serve. The change in venue was not only a boost for the morale of the members, but also the staff. There is a teaching kitchen, a wellness gym, classroom space for groups and many other substantial improvements because of the site and location of the property.
One example of the positive expansion is the relationship with the onsite pharmacy, Arizona Community Pharmacy. Their leadership has gone the extra mile by providing a large waiting room with a big screen TV for our member use. Their staff begins each morning by having hot oatmeal prepared for our members and pops fresh popcorn in the afternoon.
Today, there is a thirty percent growth in fully integrated care members since the move about 18 months ago. Of the 1,000 members who are eligible for integrated care at the facility, 345 receive services from both their behavioral health provider as well as their primary health care provider all in one location. More cohesion amongst staff translates to better care for members!
Colleen Meyer, West Valley Site Administrator, works with a talented and dedicated staff in coordinating a multitude of services. They all speak with great pride when describing innovative programs such as WRAP (Wellness, Recovery, Action and Plan), which is run by family mentors and develops coping skills and works toward members' overall wellness. Another is Moving Forward, which teaches skills to get members out in the community.
There is no doubt about the importance that the physical environment plays in facilitating recovery. When people feel good coming in to a well-designed space to receive services, they are likely to stay engaged and work harder on recovery.
One of the new programs created after the move was the Campus Ambassador Program. This gave members an opportunity to also become employees through a work program where they greet visitors and provide customer service functions. One of those members, John Davis, has experienced the old and the new at Copa Health.
John reflected on his growth both as a member and an employee: "The environment was cold and there was never enough space. At West Valley, there are rooms for members to meet and interact and the services are better and more plentiful. We even have a snack bar!"
John, a United States Army Veteran, credits Copa Health with saving his life. He says, "I am blessed to be able to do what I do and now I also help others." The future is bright in our new home!